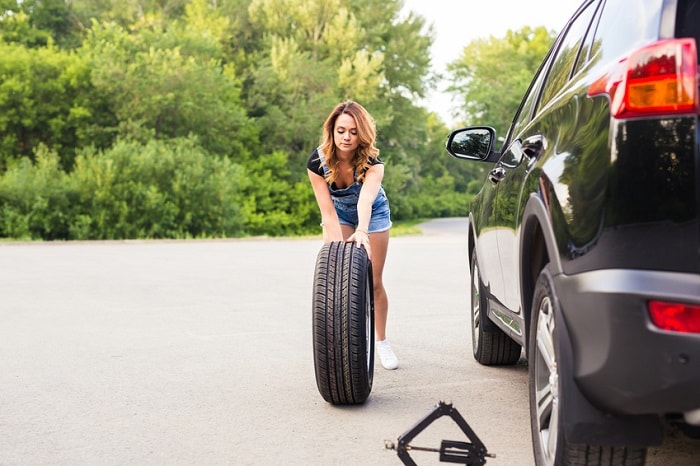 Picture this: You're cruising down the highway in your reliable BMW car or SUV, enjoying the sunshine that's finally peeking out through the clouds, with the windows down and the music up. It's a perfect day for a sunny drive—until you hear a loud popping noise and have to pull over. Your car has a flat tire, and you're stuck. What do you do now?
A surprising amount of drivers don't know how to handle a flat tire on their own. And whether you do or don't have some form of roadside assistance, you still need to know how to deal with the situation in case of emergencies. That's why Fields BMW Northfield has some tips for what to do if you spring a flat tire.
First, you should be aware of what your car is equipped with in terms of dealing with a flat. If your car has run-flat tires, for examples, or a tire pressure monitoring system, you're much less likely to get a flat at all. Does your car have a spare tire? Maybe a tire repair kit? Make sure you know what to expect.
If you do find yourself with a flat, get to a safe place first and foremost. Then extract your spare tire, car jack, and tire iron from the trunk, probably from under the floor mat. Double check the air pressure of the spare if you can. Make sure your car is in park and on a flat area, engage the security brake, and block the tire opposite the flat if possible. Before you jack up the car, use the tire iron to loosen each wheel lug by turning them counterclockwise. Double check in your manual the proper points to jack the car, then place the jack under the vehicle and start to raise it slowly until the flat tire is off the ground. Then you can remove the wheel lugs and take off the tire completely.
To replace the tire, place the spare over the wheel studs and carefully line them up to hang the tire. You can then screw the wheel lugs back on until they are nice and snug. Lower and remove the jack, then tighten the lugs completely.
Once you're back on the road with the flat in your trunk, head on over to our Chicagoland BMW dealership to get your tire repaired or replaced. Our BMW tire center is fully stocked with the best tires for your BMW 3 Series or BMW X1 at competitive prices, with trained experts to help you pick out the right type and install it. We'll take care of you and make sure you get back on the road with a safe, new tire.